Pipeline Pigging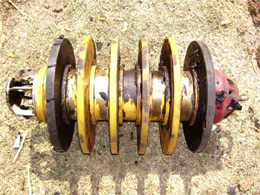 With a dedicated team of pigging professionals we provide services for Pigging of hydrocarbon pipelines. We have executed pigging of almost 40000km pipelines since 2006. Our services also include pre-commissioning, commissioning pigging and deoiling services of oil and gas pipelines.
Our team of professionals is fully trained in operations of Pig Trap valves and doors and adhere to highest level of safety standards.
Pre-commissioning, Commissioning and other related services for Oil & Gas pipelines
PTS is also into pre-commissioning, commissioning, dewaxing, dewatering & deoiling services for Oil & Gas pipelines, for which it has a team of specialists equipped with highly efficient equipment and precise instruments. These specialists could be engaged carrying out hydraulic and pneumatic pre-commissioning testing of oil and gas pipelines. Strength and tightness tests of pipelines before commissioning are critical for their reliable operation. These tests allow in determining the degree of safety in regard to operational load and help in detection and elimination of defects to provide safe operation of pipeline under design conditions.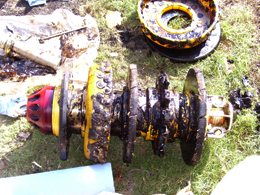 Under pre-commissioning activities PTS will provide a comprehensive set of services such as pipeline interior cleaning, strength & thickness testing, etc. Each pipeline section is cleaned of construction debris, using trains of pigs fitted with brushes and magnets. Thereafter the pipe test sections are checked for any buckles, dents and similar irregularities using a gauging plate attached to a pig. After the cleaning and gauging activities are successfully completed, hydrostatic testing is carried out by pumping water in pipeline section and raising pressure to specified test pressure. Immediately following successful completion of hydrostatic testing, the pipeline section is dewatered using air propelled swabbing pigs. Finally, the tested pipeline sections are welded together ready for final cleaning, to be carried out using trains of cleaning pigs. After the acceptance of cleaned pipeline, Geometric survey is carried out to confirm that the pipeline is free from any dents, buckles, ovality or any other forms of deformation, prior to drying. Pipeline drying is carried out by either desiccant drying or vacuum drying, after which pipeline is packed with either dry gas or inert gas at small positive pressure.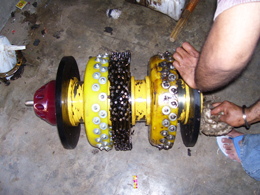 PTS will also provide support services for commissioning activities such as Nitrogen Purging and Cleaning of pipeline. Since pipelines are not immune to failure, their routine cleaning is required through running of pigs for dewaxing and deoiling.
Our Mission
To provide safe working environment and resource optimization to all stakeholders in oil and gas installations by active and passive monitoring and prevention of corrosion of pipelines.